Burger Radiator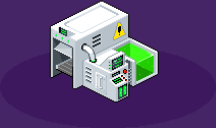 Burger Radiator is a food machine found in the game.
It can only be built in the production lines.
It can only produce Burger.
"It is the embodiment of the best and newest technologies from our R&D department: Burger Radiator. It uses a small nuclear reactor to power itself, and produces radioactive burgers from nuclear wastes. We only use the freshest nuclear waste!
You know the best thing about it? It's 100 percent environmental! It can recycle its own waste and use it as an ingredient. Totally green, perfectly recyclable!"
Upgradings
Edit
Generations

Food Produced

Cost


Pending
time

Skipping


Resell


Burger Radiator

500
50s
1
125

Adv.
Burger Radiator

1500
2m30s
2
500

Super
Burger Radiator

6000
5m
3
2000

Prime
Burger Radiator

18000
15m
8
6500

Divine
Burger Radiator

72000
2hrs
60
24500
Community content is available under
CC-BY-SA
unless otherwise noted.